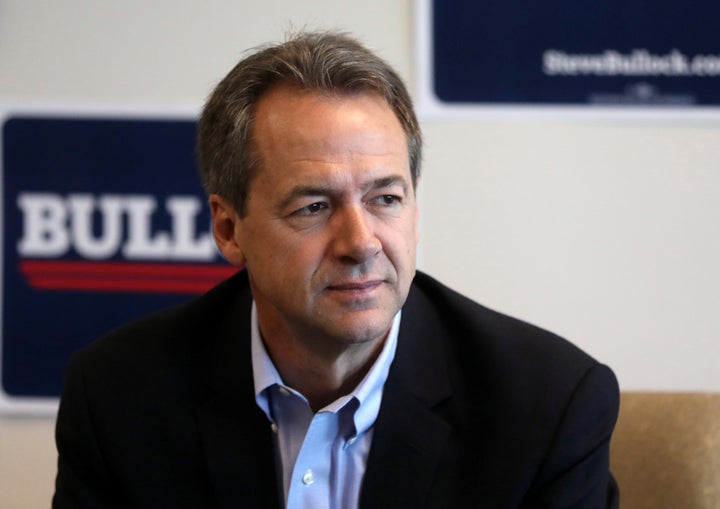 The Montana governor, who entered the race late, struggled to raise money and draw attention.
Montana Gov. Steve Bullock is dropping out of the 2020 Democratic presidential primary.
Bullock was the only governor remaining in the sprawling 2020 primary field, and he was the only candidate in the race to win statewide in a state President Donald Trump won in 2016.
Bullock's campaign also said he would not run for U.S. Senate against GOP Sen. Steve Daines. Senate Democrats have hoped to recruit Bullock into that race.
His campaign, which aimed to highlight his ability to win over Republican voters while emphasizing progressive priorities like limiting the influence of money in politics, failed to catch fire. He entered the race in May, after his state's legislative session, and only managed to qualify for a single debate while struggling to raise money and break through in a crowded field.
"Today, I am suspending my campaign to become the Democratic Party's nominee for President," Bullock said in a statement. "While there were many obstacles we could not have anticipated when entering this race, it has become clear that in this moment, I won't be able to break through to the top tier of this still-crowded field of candidates."
"I entered this race as a voice to win back the places we lost, bridge divides and rid our system of the corrupting influence of Dark Money," he continued. "While the concerns that propelled me to enter in the first place have not changed, I leave this race filled with gratitude and optimism, inspired and energized by the good people I've had the privilege of meeting over the course of the campaign."
Bullock's decision to quit the race reflects, in part, the continuing strength of Vice President Joe Biden. Bullock and a host of other candidates entered the race believing Biden would falter, and establishment Democratic officials and donors would go looking for alternatives. But Biden remains the leading candidate in almost every national poll.
It also reflects the diminished position of governors in the presidential contest. All t
Read more: http://electionnewschannel.com/top-news/127021-steve-bullock-is-dropping-out-of-the-presidential-race